In India, each festival has its own significance and teaching. 'Gudhi Padwa' is a spring time festival that is celebrated as a traditional new year and it is the beginning of the month Chaitra. Since years, we celebrate Gudhi Padwa which not only has the religious and seasonal aspect but also it has scientific significance as well. There are various dimensions behind celebrating this festival. The blog exclusively focuses on the scientific aspect of Gudhi Padwa.
GUDHI PADWA is considered as the first day of the Chaitra month and hence we can notice people worshipping a "ब्रह्मध्वज" in their houses. Now what this ब्रह्मध्वज implies to?
·         ब्रह्म : Principle behind the creation of this world (सृष्टि के निर्मिति का तत्त्व). For the matter of fact, science says that there has to be certain energy which is responsible for the creation of this world. But still, that energy is unknown and hence it's a mystery (गूढ). [Ref: The paper published in 2012 "The Creation of the World – According to Science" Ram Brustein, Judy Kupferman Department of Physics, Ben-Gurion University, Beer-Sheva  84105, Israel CAS, Ludwig-Maximilians-Universitat Muenchen, 80333 Muenchen, Germany in 2012]
·         ध्वज:  'ध्व' – ध्वंसति (Destruction) and 'ज' – जनयति (Creation). Here, these words imply to that particular energy that existed before the creation of this world and will exist after destruction of the world too (सृष्टीउत्पत्ती and सृष्टिलय).
Now, if you look at the ब्रह्मध्वज, it consist of following things:
कलश (Urn) : It is made up of any metal, which conducts energy.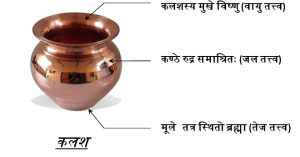 कलशस्य मुखे विष्णु
कण्ठे रुद्र समाश्रितः|
मूले  तत्र स्थितो ब्रह्मा
मध्ये मातृगणा: स्मृताः
||
[Ref: सर्वदेवपूजा संग्रह ]
विष्णु – व्याप्नोति विष्णु :- The one that occupies space.  वायुवाहनः :- One that holds वायु  [Ref: विष्णुसहस्त्रनाम् , 49 ]. Hence, in the figure above, space at the mouth of कलश has 'वायु तत्त्व'.
रुद्र समाश्रितः – (सम + आश्रितः) :- Lives with. Here, रुद्र lives in कलश with वरुण e. water. Hence, the throat of कलश has 'जल तत्त्व'.
ब्रह्मा – ब्रह्म is energy, as mentioned above, its aura is called as ब्रह्मतेज. Hence, the bottom of कलश has 'तेज तत्त्व'.
2. गाठी(Sugar) : It is made up of sugar which contains Glucose to obtain energy to function. It is a simple sugar which is an important energy source in living organisms and is a component of many carbohydrates.
3. नीम: The botanical name for Neem is "Azadirachta indica". The medicinal properties of Neem include immunomodulatory (modifies the functioning of body immune system), anti-inflammatory, antihyperglycemic, antiulcer, antimalarial, antifungal, antibacterial, antiviral, antioxidant, antimutagenic, and anticarcinogenic. In simple words, it prevents the body from infections to sustain the flow of energy.
4. महावस्त्र(Cloth): It is a sign of Prosperity.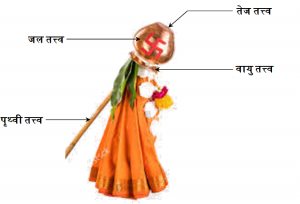 ब्रह्मध्वज in आकाश तत्त्व
CONCLUSION:
ब्रह्मध्वज which is full of energy comprises of all the things mentioned above. Taking गुढी पाडवा as a festival into consideration, when we co-relate the human body as ब्रह्मध्वज having पंचतत्त्व within it, human body is the most energetic element in the universe. It is we, humans who have created machines that could make the things we needed and wanted. Human brain is the whole and soul of modern discoveries and civilizations.
Hence, as a responsible human being it is important to channelize this form of energy for the welfare of society unless its directionless form will destruct everything. Though ब्रह्मध्वज indicates energy, scientifically गुढी पाडवा symbolises the importance of energy avoiding the obstacles (negativity) and achieving prosperity (positivity).